Wedding Car Ribbon
Amore Limousines – Wedding Limo Hire Sydney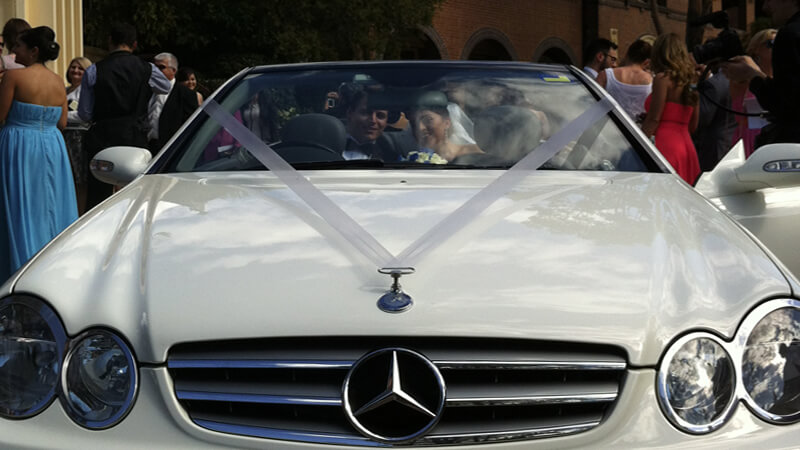 It's your big day. The day you've dreamed about since you were a child. You've spent months, even maybe a year or two, planning every detail to ensure that it would be the wedding of your dreams. For a bride and groom, there are so many gifts that they receive on their wedding day; their union of love, the ability to share this special milestone in their lives with beloved friends and family, actual gifts (monetary ones are always lovely).
Throughout the day, these gifts can be seen through the rings of the bride and groom as they exchange their vows, in the envelopes that guests place in a decorated box at the reception and by the wedding car ribbon on the vehicle that the bride and groom have carefully chosen to escort them to their celebration of love.
The wedding car that the bride and groom select is an important decision for them to make; it is the first place they get to celebrate their new union in privacy, in comfort and in style. Their wedding car is also how they will travel and arrive to their destination; since it's their big day, it is only fitting that they choose a car that will make them stand out! The wedding car ribbon shows not only this gift of a classy, elegant mode of transportation that you've reserved for your big day, but it also signifies this new gift of life together. With the placement of this ribbon on the front of your wedding car, you can ride around knowing that everyone that sees it will know there's something special within that exquisite car. Everyone will know, by that very ribbon, you are celebrating one of the most important days of your life. The wedding car ribbon will add that special touch, that "little something extra" to make you stand out from the crowd and since it's your wedding day, you deserve that kind of attention!
You can have that wedding car ribbon attached to one of our polished, elegant and sophisticated vehicles in our exclusive Mercedes Benz fleet for your wedding day when you reserve your Formal Car Hire with Amore Limousines.
Indulge in Comfort & Style
Amore Limousines – Sydney Limo Hire offers a range of high quality limousines for all occasions. Competitive Rates and High Quality Limousines. Contact Us for all your Limousine Hire Sydney services
Limousine Services Sydney
HIRE US
AMORE LIMOUSINE
Amore Limousines Sydney Limo Hire offers high quality limousine services at affordable and competitive pricing. Amore Limousines – Limo Hire Sydney ensure that we provide the best limousine experience in Sydney.
Amore Limousines – Limo Hire Sydney Services – Wedding Limo Hire Sydney – Stretch Limo Hire Sydney